Understand why your account and dashboard are locked and how to gain access to your account.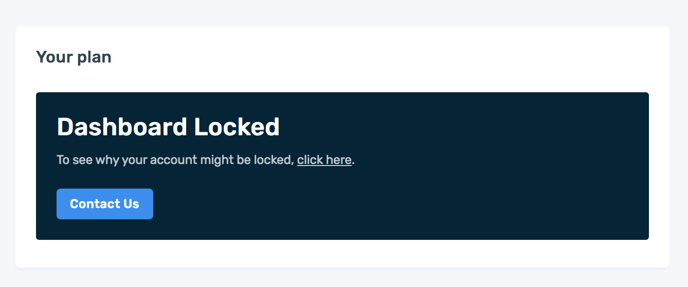 1. You created an account with a personal email
Our system flags accounts that are created with personal email addresses. Contact us at support@coderbyte.com to update your email address to a business one.
2. Your organization has been banned from Coderbyte
Coderbyte is not a fit for every company and we rely on both positive and negative feedback to make our platform better. However, some companies are determined to be rude or particularly difficult when trialing or canceling Coderbyte, which makes it difficult for us to invest in making our platform better for 2,200+ other happy customers.

The following are a list of reasons that your organization may be banned from using Coderbyte:
Your organization wanted to create subpar candidate experiences. Code interviews suffer a poor reputation due to the actions of a few companies, which also reflects badly on the code assessment platforms they use. For that reason, we manually review all custom challenges (for bias and functionality) and respond to all feature requests.
Your organization trialed Coderbyte but chose to use a subpar platform instead like Devskiller, TestGorilla, Tests4Geeks, iMocha, or something comparable. It indicates poor decision-making and we only want customers that execute good judgment.
Your organization is excessively bureaucratic or needy. Coderbyte is affordable and transparent, and can be trialed for free. In order to keep Coderbyte that way, we do not fill out vendor forms or engage in lengthy conversations about GDPR or security.
You are not alone as many great companies are banned from Coderbyte, including Facebook. If you want us to reconsider this ban, please email support@coderbyte.com.