Understand why your account and dashboard are locked and how to gain access to your account.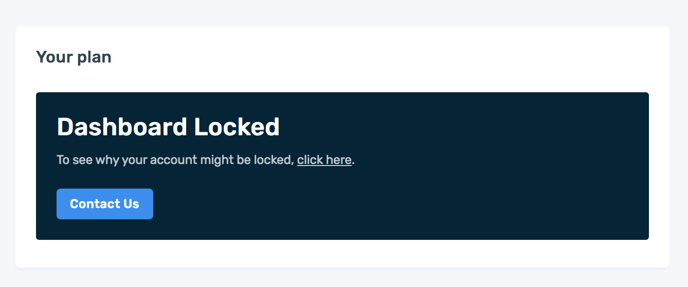 1. You created an account with a personal email
Our system flags accounts that are created with personal email addresses. Contact us at support@coderbyte.com to update your email address to a business one.
2. Your account has been marked as spam
Coderbyte gets dozens of fake accounts signing up daily either by bots or people using fake credit cards. Our system takes several factors into consideration when a new account is created (e.g. company name, credit card meta information, IP address, etc.) and if your account is marked as suspicious or spam, it will be automatically locked.
Someone from our team will then reach out to resolve any issues and either delete your account or unlock it and let you continue using the platform. Reach out to support@coderbyte.com if you think your account was incorrectly marked as spam.
3. Your organization has been banned from Coderbyte
Coderbyte is not a fit for every company and we rely on both positive and negative feedback to make our platform better. However, some companies are determined to be rude or particularly difficult when trialing or canceling Coderbyte, which makes it difficult for us to invest in making our platform better for 3,000+ other happy customers.

The following are a list of reasons that your organization may be banned from using Coderbyte:
Your organization wanted to create subpar candidate experiences. Code interviews suffer a poor reputation due to the actions of a few companies, which also reflects badly on the code assessment platforms they use.
Your organization is excessively bureaucratic or needy. Coderbyte is affordable and transparent, and can be trialed for free. In order to keep Coderbyte that way, we do not fill out vendor forms. If your company insists on us filling out forms before you can even speak with us, check out our enterprise plan.
You are not alone as many great companies are banned from Coderbyte. If you want us to reconsider this ban, please email support@coderbyte.com.