How to integrate Coderbyte with Greenhouse
We use Zapier for integrations which allows you to connect different applications to each other. Learn more about our API and Integrations here.
Getting Started
The first thing you'll need to do is create a Zapier account. Greenhouse is a premium application on Zapier, so you'll need to sign up for the Starter plan as well.
Once you purchase the API access add-on on Coderbyte, you'll need to generate an API key which you can do in your dashboard settings.
Once your API key is generated, you can click the link below it to connect Coderbyte to Zapier. This will will allow you to create Zaps that make use of Coderbyte triggers and actions.

Part 1: Connect Greenhouse to Coderbyte
This first part of the integration will allow you to send candidates who are moved to a specific stage (e.g. assessment stage) a Coderbyte assessment link automatically. Below are the steps required to set this up.
The first thing you'll do is create a new Zap and select Greenhouse. For the Trigger Event select New Candidate Application.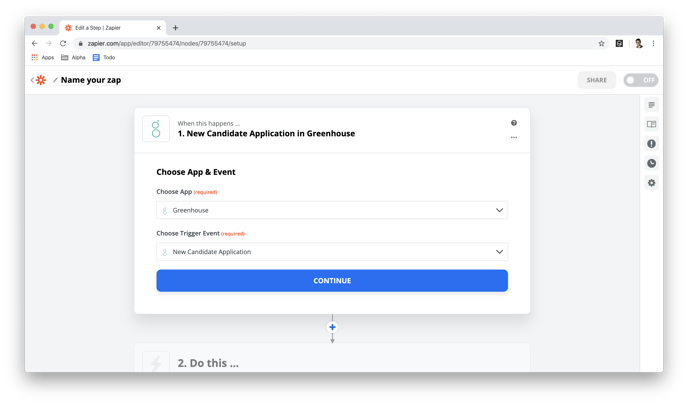 Then you'll be asked to connect your Greenhouse account, which requires you to be an admin and logged in to Greenhouse in the same browser. Once you connect you should click Test & Continue in order to pull some data down from Greenhouse to confirm it's connected.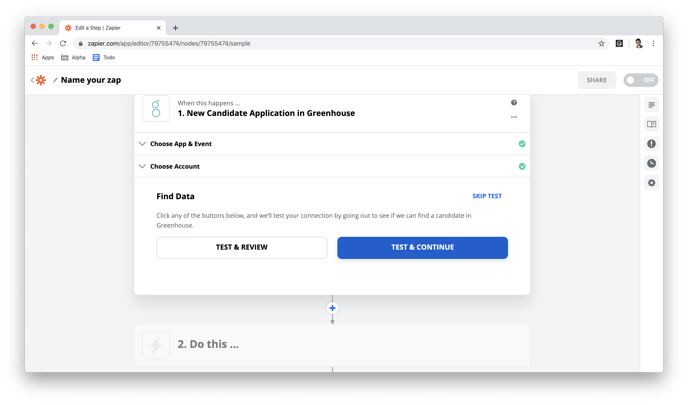 Then you should click the small plus button at the bottom to create an intermediate step.
This is where you'll filter to only send assessment links to candidates who are moved to a specific stage. Select Filter.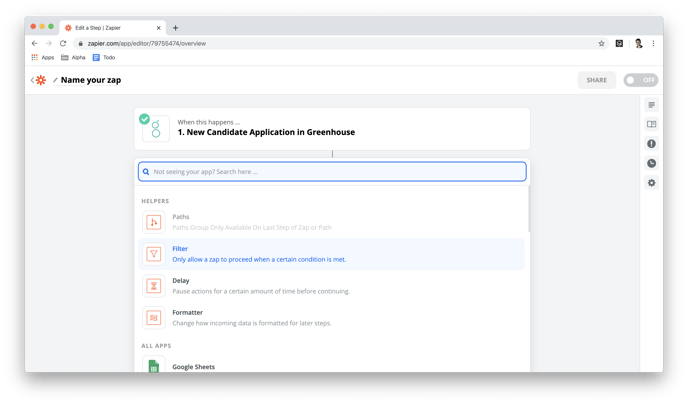 Add a filter similar to what we have below. This will send a Coderbyte assessment link only to candidates who are moved to some specific stage (e.g. Coderbyte or Technical Screen).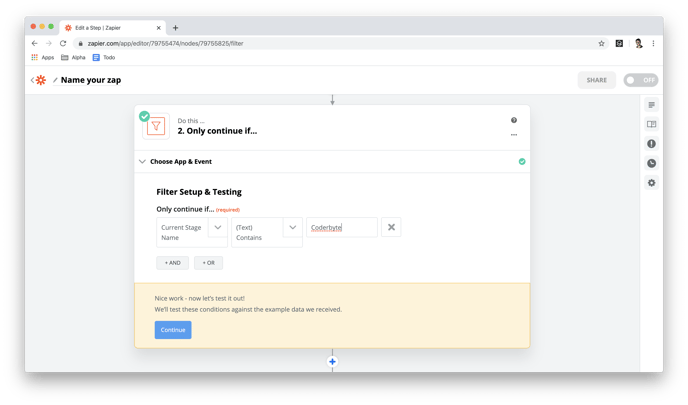 The final part of this Zap is to send the actual Coderbyte assessment link to candidates now. Select Coderbyte as the action.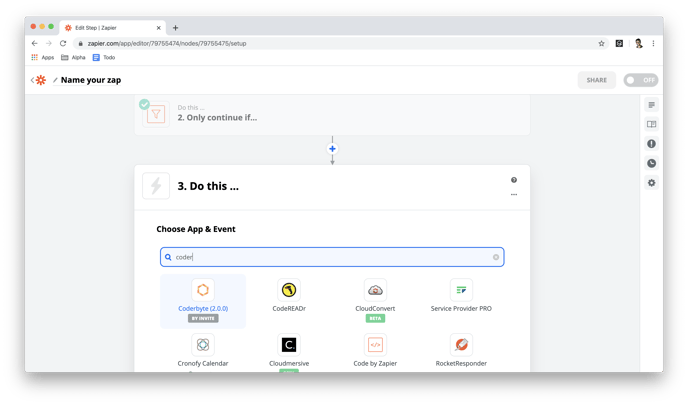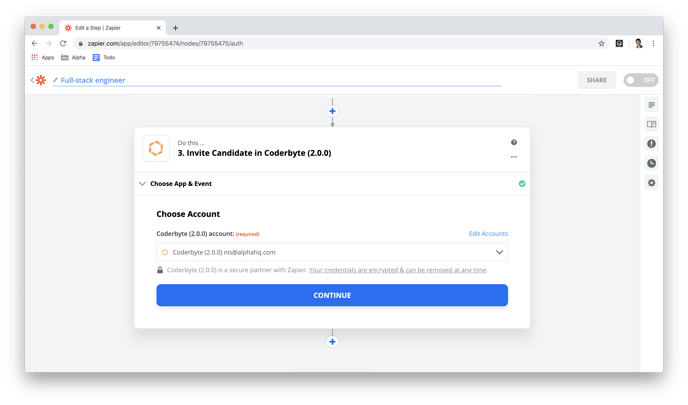 Here you can now add the candidate email address and the assessment link to the Zap. You can copy the invite link from your Coderbyte dashboard, then paste it back in Zapier.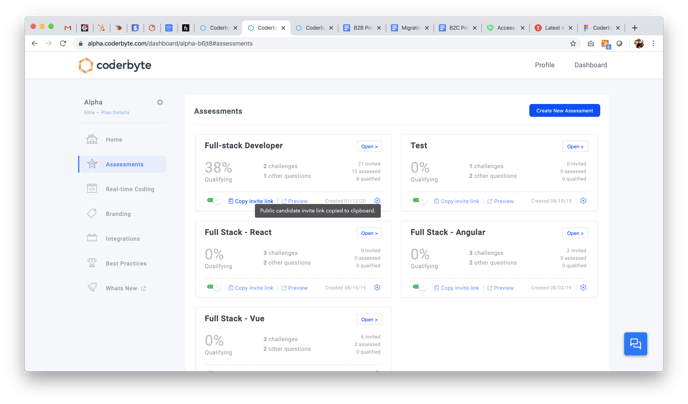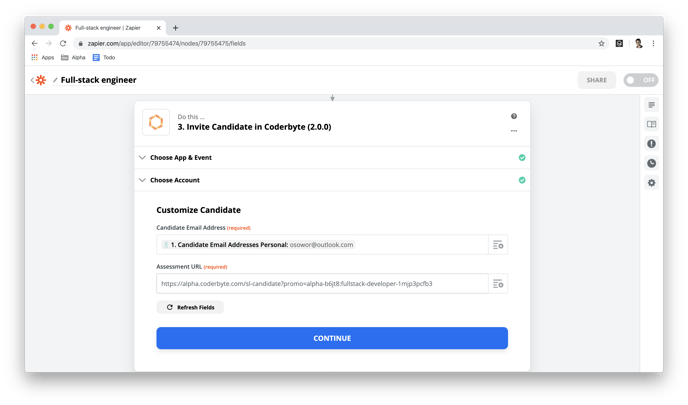 Once this is done, candidates moved into a specific stage in Greenhouse will be automatically sent Coderbyte assessment links!
Part 2: Connect Coderbyte results back to Greenhouse
This second part of the integration will automatically send candidate results back into Greenhouse for that candidate application.
What you'll need to do is create a new Zap and select Coderbyte. For the Trigger Event select Candidate Completed Assessment.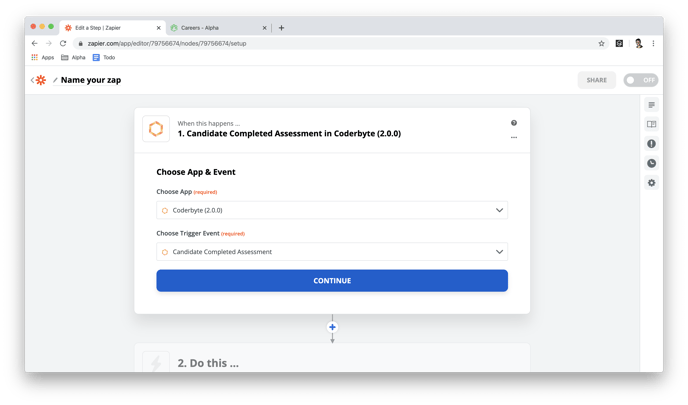 Then connect to Greenhouse, connect your Greenhouse account, and then select Customize Candidate Note. We are going to be updating the candidates profile in Greenhouse with their Coderbyte results.
For On Behalf Of, select the Greenhouse admin that will be authorizing this Zap.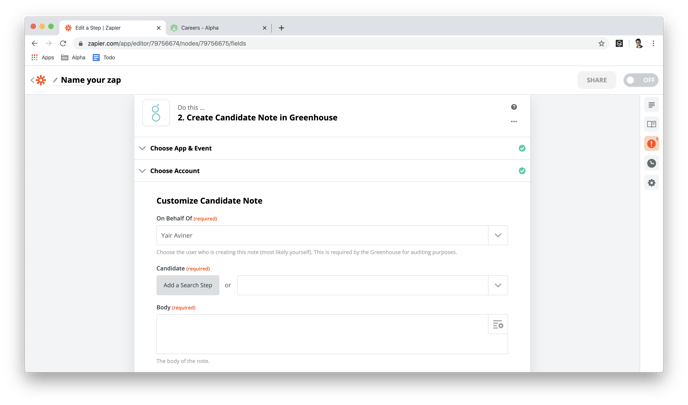 Then we need to find the candidate in Greenhouse based on their Coderbyte email address. Click on Add a Search Step.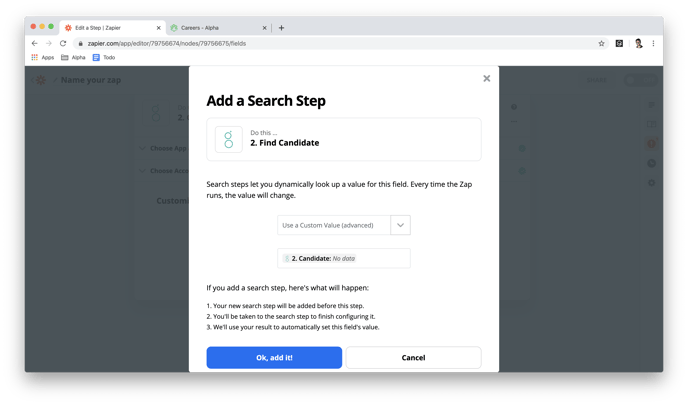 Then in this new modal, simply click Ok, add it! This will allow you to connect Coderbyte email addresses to actual candidates in Greenhouse based on an ID.
You'll now see the ID automatically populated in Custom Value for Candidate.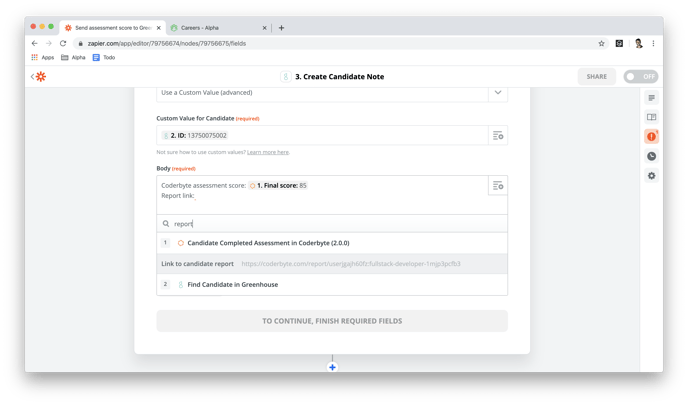 Then in the Body field, use the arrow on the right side to create a message like above. You can add in the candidate's final score, report link, date completed, and more.
Once you're done, click Continue and now the entire Greenhouse integration is complete!