Tutorial for creating a code interview assessment, selecting a template, and running a real-time interview
Note: Code Interviews consist of live code pairing. On Coderbyte, you can conduct remote, real-time interviews and code-pairing with candidates in a live programming environment. Create lightweight interview templates and simulate whiteboarding sessions with top candidates. For help incorporating code interviewing into your recruiting process, read our expert guide.
To begin, navigate to Code Assessments and then to Interviews.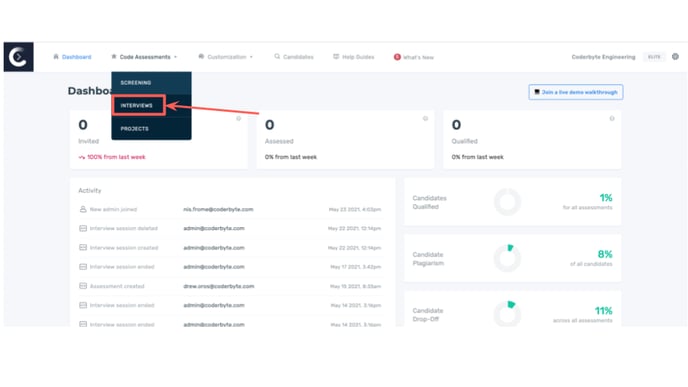 There are two ways to create a new interview assessment: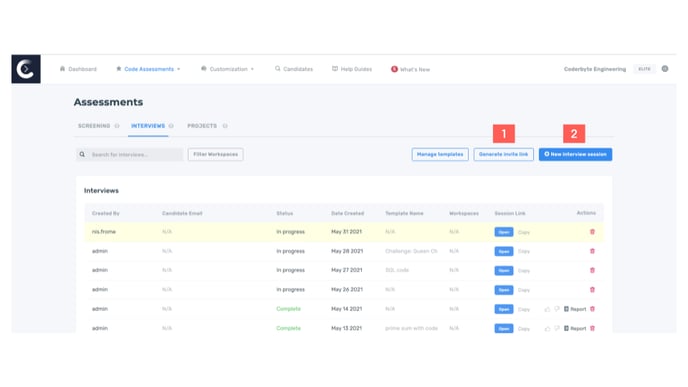 Generate an invite link: This is the simplest and fastest approach. It will generate a new row in your interview table with a unique link to join an interview as an admin and candidate. This approach is recommended when you are about to begin an interview.
New interview session: This approach lets you select from one of your interview templates and then invite a specific candidate via email. This approach is recommended if you are scheduling an interview and want the candidate to have the link ahead of time.