How to integrate Coderbyte with tools like Workable and Slack
Zapier is a third-party service that enables you to connect Coderbyte to other tools. It is the only way to integrate with Coderbyte or access our API. This feature is available on our Elite plans and via an add-on.
To generate an API key and use Zapier, navigate to Settings and then API & Integrations.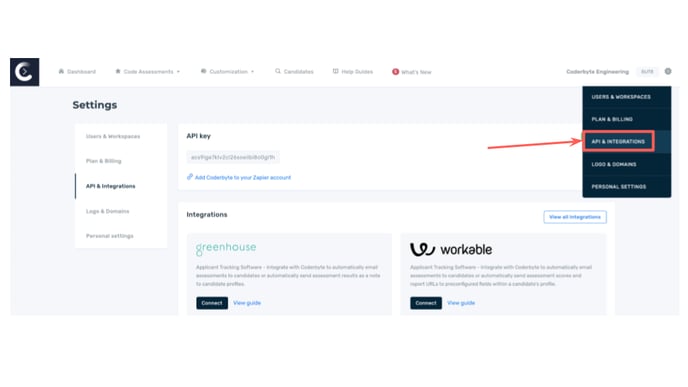 API access to get candidate data
For example, you can send all of your candidate results at any point to a database you own or to an ATS like Workable. Some guides and examples are listed below:
Inviting candidates via our API
With our Zapier integration you're also able to invite candidates to an assessment. For example, when a candidate fills out a Typeform they can automatically be invited to an assessment you created.
Note: when creating a Zap you'll be asked to enter in an assessment public URL to send to candidates. Our system will automatically generate private links based on the public URL and send that to candidates instead.