Navigating Coderbyte's challenge library and building the right spreadsheet Assessment
In addition to coding challenges, you can now add spreadsheet challenges to any Assessment. Click Edit in the upper right of any existing Assessment to modify all the settings, challenges, and questions.

Challenge library
On the second tab, you will see the Challenge Library on the left side and the Selected Challenges on the right side. Select Spreadsheet or Excel to view and add challenges.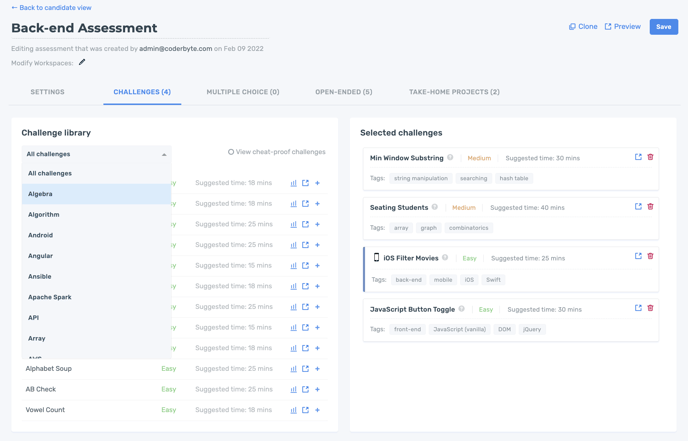 Note: Custom spreadsheet challenges are not available yet.
Spreadsheet challenge options
For each spreadsheet challenge in the library, you have several capabilities:

Benchmarking graph: See how candidates perform on average for each spreadsheet challenge
Preview the challenge: See the challenge instructions and details from the spreadsheet like a candidate would.
Add the challenge to your screening assessment
Remove the challenge from your screening assessment
Candidate experience
The embedded Google Sheet has fully-fledged capabilities, including function lookups and solution verification.