Adding custom challenges and managing your custom challenge library
To add a custom challenge on Coderbyte, navigate to your custom challenge library by clicking Customization and then Custom Challenges.

From here you will see your existing custom challenges and a button to create a new custom challenge.


To create a custom challenge, you will need to add a title, instructions, and test cases. Our system will input your test cases into the candidate's code in order to automatically grade their submissions. Once your challenge is approved, you will be able to add it to any assessment or interview.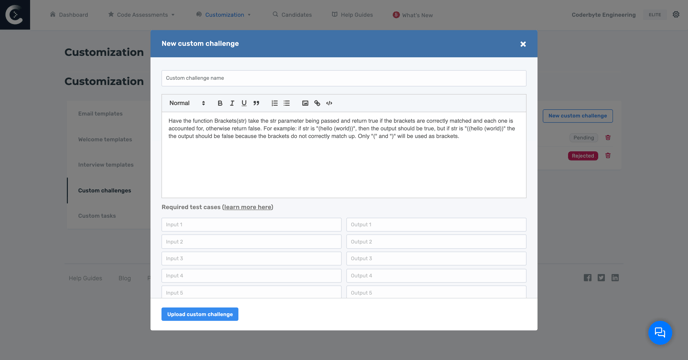 Test case formats
If you are uploading a custom algorithm challenge you need to provide 10 test cases in order for our system to automatically grade solutions. We accept the following input types:
Strings: enter in test cases without surrounding quotes.
Numbers: enter in test cases as numbers without quotes.
Arrays: we accept arrays of strings or numbers. Enter them in without brackets and comma-delimited, e.g. "hello", "world" or 4, 5, 6.
Output types can only be strings or numbers, we do not accept arrays.