An overview of the admin dashboard, activity log, and navigation.
The dashboard is your mission control for using Coderbyte. You can navigate to it at any time by clicking on the Coderbyte logo or clicking Dashboard in the navigation. Please refer to the screenshot below for an explanation of features: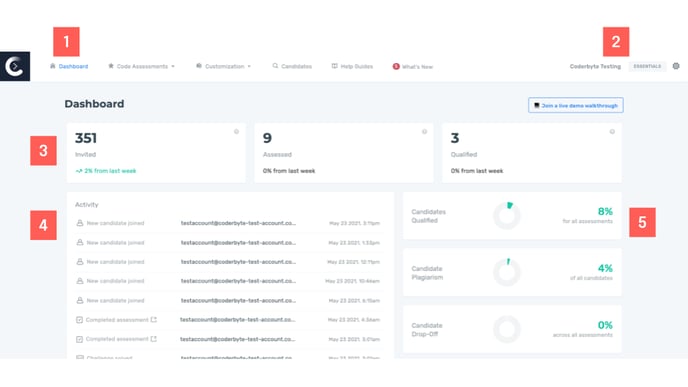 1: Navigation
As expected, the navigation bar is how you navigate and access all the features on Coderbyte, beginning with the Dashboard.
---
Next is a dropdown for Code Assessments.
There are three Code Assessment capabilities on Coderbyte:
Screening: Typically an early step in a recruiting process, screening consists of code challenges and automated grading. Select from 400+ challenges to create and customize code screening assessments for any technical role in minutes. Pick from one of our templates or automate your existing process using our library of challenges and skill-based questions. Learn more about Code Screening Assessments.
Interviews: Real-time code pairing with video and audio is a critical step in an hiring process. Conduct remote interviews with candidates in a live programming environment. Create lightweight interview templates and simulate whiteboarding sessions with top candidates. Learn more about Code Interview Assessments.
Projects: Take-home assignments via GitHub can enable you to identify the top candidate in your pipeline. Create your own real-world assignments that you can view, run, and analyze on the web via our integration with GitHub. You can even compensate candidates right from Coderbyte for completing lengthier projects. Learn more about Code Project Assessments.
---
Next is a dropdown for Customization.

There are multiple ways to customize your assessments in Coderbyte.
Email invitation templates: The text and images in the email invitation that candidates receive to join an assessment.
Welcome screen templates: The text and images on the welcome screen candidates see before starting an assessment.
Interview templates: The instructions and/or challenges for a code interview assessment.
Custom challenges: The library of automatically-graded challenges for code screening assessments that your company creates.
Custom tasks: The library of manually-graded challenges for code screening assessments that your company creates.
---
Next is the ability to Search Candidates.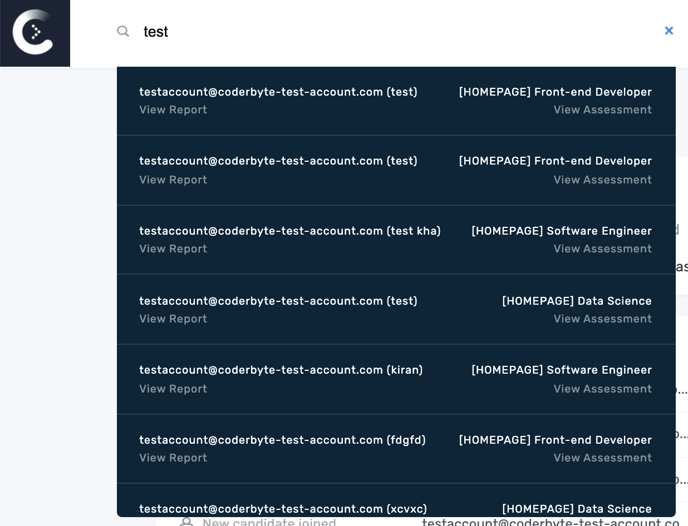 The search capability enables you enter an email address to find candidate reports.
---
Next is a link to our Help Center, which you are currently in.
---
Finally, there is a link to What's New, our recently released features. We add new features and coding languages on a weekly basis.
2: Account name and settings
On the top right of the page, you will see more information about your account, including your Account Name, Subscription Plan, and Account Settings.
3: Dashboard stats
This section on your dashboard gives you high-level statistics of your hiring momentum on a week-over-week basis.
4: Activity log
This section on your dashboard gives you a play-by-play of every event taking place across your account, both by admins and candidates.
5: Benchmarking
This section on your dashboard lets you see how your candidates overall are performing across your assessments.